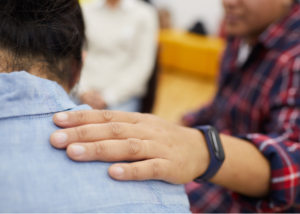 ADDICTION & COMMUNITY SUPPORT WORKER DIPLOMA PROGRAM
1061 Hours/46 Weeks/57 Credits
PROGRAM DESCRIPTION
The Addiction & Community Support Worker Diploma program at MTG Healthcare Academy focuses on the competencies necessary to train students with the skills and expertise needed for a challenging but rewarding profession in this field. Students of this program can learn the skills to work in the community of people that are at risk and helpless as well as homeless persons, children with special needs, Indigenous peoples, pregnant teenagers, people with substance abuse problems and addictions, and many more.
This program is delivered in-class and/or online (through remote "face-to-face" instructor-led classes). It includes 19 courses and a practicum placement so students can achieve valuable work experience before graduation.
The career route for an Addiction & Community Support Worker can be diverse. They are employed by group homes, social service agencies, government agencies, jails, rehabilitation/detoxification centers, shelters, mental health agencies, and other institutions.
ADMISSION REQUIREMENTS
Standard Admission
Students must meet the following criteria:
Alberta High School Diploma verified by transcript or Non-Alberta equivalent OR
Successful completion of General Equivalency Diploma (GED) Credit in English 30-1 or 65% in English 30-2
Successful personal interview with school's admission officer
Mature Admission
Students must meet the following criteria:
At least 18 years of age
Out of school for one (1) year
Successful result of the school's admission exam (Wonderlic Basic Skills Test, passing mark of 18 as per Wonderlic recommendations)
Successful personal interview with school's admission officer
Practicum Requirement
Police Clearance (with Vulnerable Sector Check)
English Language Proficiency requirement
Students whose first language is NOT English must demonstrate ONE of the following:
Transcripts showing 3 years of full-time secondary education at a school where English was the language of instruction OR
Transcripts showing one year of post-secondary education where English was the language of instruction OR
Canadian Language Benchmark (CLB) assessment level 6 OR equivalent (TOFEL, IELTS) 5 OR
Wonderlic Basic Skills Test (WBST) minimum scholastic level of Verbal Skills (310) OR
Successful completion of a Canadian English Language Arts Course (ex. English 20) OR
Duolingo English Test, minimum grade of 95
PROGRAM OUTLINE
Course Code
Course Name
Credits
ACSW 1
Intro to Community Support Work
3
ACSW 2
Case Management
2
ACSW 3
Advocacy
2
ACSW 4
Self-Care
2
ACSW 5
Ethics
2
ACSW 6
Writing Skills for Community Workers
3
ACSW 7
Communication
3
ACSW 8
Behavior Analysis
2
ACSW 9
Developmental Disabilities
3
ACSW 10
Domestic Violence
3
ACSW 11
Pharmacology of Addiction
1
ACSW 12
Addictions and Mental Health (Psychology)
5
ACSW 13
Counseling
3
ACSW 14
Aboriginal Studies
2
ACSW 15
Child and Youth Development
3
ACSW 16
Supporting Youth at Risk
3
ACSW 17
The Family
4
ACSW 18
Sociology
4
ACSW 19
Computer Basics
2
ACSW 20
Practicum
5
57
WORKSHOPS
Trauma Informed Care (TIC)
0
Job Search Strategies
0
Nonviolent Crisis Intervention Training
0
Applied Suicide Intervention Skills Training (ASIST)
0
First Aid & CPR Training
0
0